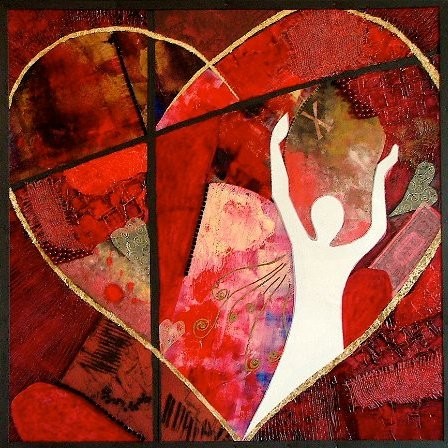 FOUNDER'S LETTER
Mission Work...

It's something that my husband, Keith, and I have been called to for decades and now can't imagine a life without it. After years of trips to Nigeria, Haiti, South Africa and Gallup, New Mexico we became motivated to do something more. The amazing generosity of the people we became friends with on these journeys deeply affected our lives. We came back asking ourselves how we could use our God-given gifts to walk with people in our own community.

It's not that we weren't giving to our community. Like many others, we gave regularly to our church, but we were "transactional" givers. We felt called by God to stretch and give here in our community with our time, skills, AND our resources of money and possessions.

Along our path, in search of new ways to give, we were influenced by stories of other givers who were answering God's call and doing transformational acts of generosity. We too wanted to become "transformational" in our giving. After all, the Bible mentions love 714 times; yet giving or possessions is mentioned over 2,000 times!

About the same time, we developed a relationship with the National Christian Foundation staff and told them our story. They introduced us to the concept of a generosity movement for Christ. With their guidance, we planned a lunch for 12 of our friends and business peers where we shared our hearts for Christ and generosity. Keith and I shared that there was no fundraising at our lunch, nor would there be at any of our events.

We asked this first group of friends if they would join us as companions on this quest to answer God's call. Very soon, a founding volunteer leadership team was born. To this day, our leadership team is still led by volunteer leaders who are passionate about Jesus Christ. We meet regularly for lunch, visioning, planning and fellowship.

Early on, we created our mission to inspire, educate and motivate others in Kingdom-based giving. We planned events, tried various speakers, and held what we called generosity dinners where no direct fundraising took place. We remain true to this and do not fundraise. Instead, we offer tools and inspiration to ICGC members in a neutral environment. We found this was good ground for the gospel of generosity.

As we grew, we established a goal to walk alongside and encourage Christ-centered nonprofit ministries and held a training event to see who would attend. What began as only five organizations quickly became 35! We soon realized there was a great connection between these nonprofits and a common bond of serving for the Lord - and not hiding that. The nonprofit leaders shared they would like to continue this training and fellowship on a regular basis. They loved the support and fellowship we were providing in an atmosphere of NO competition. Not here. Once all of the needs of God's Kingdom are met, then competition can happen.

Since that time, we have had quarterly luncheons for all members and an annual Ignite Your Legacy event. In 2017, growth for serving our community's nonprofits was vast enough that the leadership team reached out to engage the services of Scott Brunscheen to serve as Executive Director to support our efforts. I also stepped aside at that time as our leadership chair to tend to my mother who was very ill. Johnne Syverson became our new chairperson and currently remains at the helm.

While our mission and leadership has always embraced putting Christ first in everything we do, the most important thing we did was to add the word Christian to our name. What started as the Iowa Generosity Council in 2014 became the Iowa Christian Generosity Council in 2017.

While I share with you the history of the ICGC journey, we continue to look to the future. In fact, during 2020-2021, and the Covid-19 pandemic, our nonprofit membership doubled in size and grew from 12 to 24 ministries. We also launched a Zoom video conference component. Our 2021 Ignite Your Legacy event had a record attendance and we look forward to growing this event every year.

Transformational giving is on the rise in our community as people find new and different ways to give of their time, talents and resources. We are so grateful that we listened to God's calling on our hearts all those years ago and are blessed by the way He has equipped us to champion ministries serving on the frontlines. We can't wait to see what else God has in store as we cast our bread upon the water!

We'd love to have you join us!

Eileen Denner
Co-Founder, Iowa Christian Generosity Council